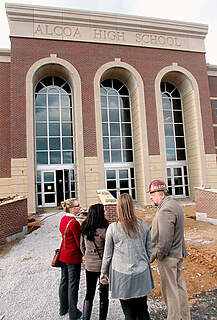 As the new Alcoa High School project heads into its final months, crews are getting ready to complete design features that will establish the building as a county "landmark."
Workers have reached 80 percent completion on the new Alcoa High School, said Merit Construction Senior Vice President Steve Heatherly. The structure's rotunda is expected to completed in April.
The new Alcoa High School's design was inspired by the architecture of former ALCOA Inc. buildings and Alcoa schools. The project team reviewed the former West Plant headquarters and Bassel, Charles M. Hall and Springbrook schools.